Green Catalyst is a program to nurture and empower the youth of Ahme
dabad city to spread environmental awareness among citizens of Ahmedabad and initiate actions which will help improve the environment in the city.
Our objective is to prepare change agents (Green Catalyst), who will spread awareness and sensitize other youths. These catalysts will be chosen from colleges across the Ahmedabad. We will educate these Green Catalysts with all related information and concepts about the environment through different methods so that they understand the complexity of environmental issues of the Ahmedabad city. We will also empower them to disseminate information on different environmental issues through different media so that they can reach out to a larger audience in their surrounding and educational insti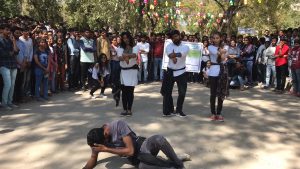 tute. They will also be responsible for publication of magazine, planning awareness drive through different media, and to develop creative ways for disseminating information on different environmental issues. Green Catalysts will be trained extensively through 4-5 training programs to understand the complexity of environmental issues of the Ahmedabad city. Institute will also benefit through various programs like celebration of important environmental days, initiatives like e-waste collection centers, energy audit, plastic waste collection centers etc in the college campus. We will also take coverage of these activities in out bimonthly magazine "Paryavaran Mitra." At the end of program Green catalyst will get exposure to various aspects like ddomestic solid waste disposal system, sewage treatment plant, water management, climate change issue, air, water and noise pollution, plastic and E-waste management.
This program will improve the quality of environmental education being taught at different levels in current education system and also provide platform for youth of the city to come together and act for common cause of environment protection. We will also involve different stakeholders (like media, educational institutes, policy makers, business associates, government agencies, youth groups, CBOs etc) to think and act collectively for Green Ahmedabad.
At the end of our program certificate will be provided to Green Catalyst for their contribution.  Other participants and colleges will also be awarded certification of appreciation.
Link to Green Catalyst Website: http://greencatalyst.org.in/
-Paryavaran Mitra