ENVIRO PARALEGAL
Enviro paralegal is person who knows environmental laws in depth apart from other laws. He can become link between judiciary and pollution affected people in the process of justice. He is having knowledge of existing environmental laws in India, technical aspects of environmental pollution, its social impacts etc.
Implementation of environmental law is very poor in India because of many reasons including lack of knowledge of law, fear of judiciary, lack of awareness about rights, lack of technical knowledge etc. So Paryavaran Mitra felt a need for capacity building of people to overcome these limitations. With this purpose, a 3-month Enviro Paralegal course (November 2005 to January 2006) with a total five sessions was commenced in collaboration with Indian Institute of Paralegal Studies (IIPLS) at Rajula and Zagadiya taluka of Amreli and Bharuch districts respectively. A total of 30 participants were trained with an objective:
To provide the knowledge of environmental issues
To develop network between various stakeholder and create dialog between them.
To create legal awareness of various environmental laws and new policy reform
To give mitigative measures of various pollution problems to concern person
To create awareness about industrial obligation
To develop the concept of Gramsabha and its powers.
To educate the Panchayat (local village body) about their role and power.
With this Enviro-paralegal training these 30 participants have over the years contributed a lot to their community by resolving environmental issues due to unsustainable development.  With this success, we trained 30 more paralegals from Padra and Khambhat taluka of Gujarat in 2007-2008. Paralegals have been working independently with our support whenever required and we have been periodically organizing training programs to give them further updates.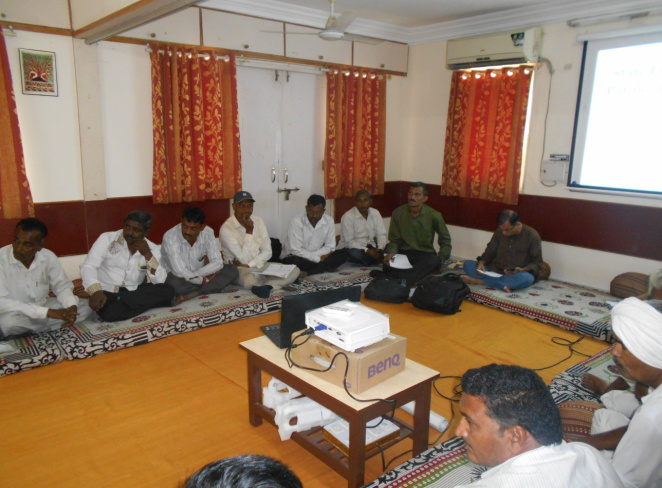 Photo: State-level paralegal training program organized by Paryavaran Mitra in April 2017