Who can join us as an intern?
Young students from all over the world can apply for internship at Paryavaran Mitra.
Time Duration:
Paryavaran Mitra offers flexibility in working hours and the duration of internship which may vary by a mutually decided timeframe so that they can keep balance with their studies.
How to apply? 
Students interested in internship can mail us their CV along with a college permission letter at paryavaranmitra@yahoo.com
 From the Intern's Desk:
Akshay Menon
S.P. Jain Institute of Management and Research, Mumbai
Post Graduate Diploma in Management
Duration: 1 month, 7th March to 6th April 2018
I had the opportunity to intern with Paryavaran Mitra as part of my MBA program. The experience I have had is exceptional. Paryavaran Mitra is making an impact at the grassroots level. What stood out for me during my stint there was the experience I had during my field-visits and community drives. The stories of each one in the Paryavaran Mitra team was truly eye-opening. I got the opportunity to work on strategizing and strengthening the Green Catalyst program that is aimed at nurturing youth for environment protection. The energy of the team and the zeal for environmental activism makes the program truly stand out. What I take away from my internship is the satisfaction that I derived from working for a truly noble cause. Managing an NGO has different challenges compared to managing a business. Each of the challenges that we faced was a learning opportunity. I sincerely hope Paryavaran Mitra continues its environmental activism and influences more and more people to live life in a way that causes minimal damage to the environment.
---
Ankit Yadav
S.P. Jain Institute of Management and Research, Mumbai
Post Graduate Diploma in Management
Duration: 1 month, 7th March to 6th April 2018
Paryavaran Mitra is an organization that uses internships very effectively to get its various work done. It uses this model quite efficiently and is a two-way road where both the NGO and the student interns stand to gain. I was privileged to intern with them for a period of 1 month from March 2018 to April 2018 as part of my college's social project. I performed a wide variety of tasks during my time there and it served as a great learning opportunity that complemented and enhanced my knowledge scope and skills. The thing I liked the most about Paryavaran Mitra is its work culture. It is an unchained environment where given a problem, one is also given the freedom to choose the way to tackle it. Interns are encouraged to innovate and think creatively, with the mentors always on hand to guide the interns. My time there was amazing, tosay the least, and I formed a wonderful bond with the members of the NGO. I would be more than willing to help the NGO in any capacity possible in the future, such has been their impact on me. I wish Paryavaran Mitra the very best for its future endeavours and hope that they continue doing the great work they are doing.
---
Mitchelle Simon
Christ University, Bangalore
1 st Year, M.A. in Media and Communication Studies
Internship Duration: 1 month (10 th April 2017 to 10 th May, 2017)
The best part about working for this organisation, even if it was just a month,showed me several good traits aboutParyavaran Mitra. One was that they used the skills and talents of the interns and volunteers based on your study background and your majors. Being a Media and Communication student, my best trait was Reporting and Documentation, along with a few creative deas wherever needed and I must say I never had a single chance to complain about any situation. I was welcomed as an equal, made beautiful relations with the members and each taught me so much about their work in hand.
Sarbajeet Jena
Student of MBA (International Business), Indian Institute of Foreign Trade, Kolkata
(Completed B Tech- M Tech Dual degree, NIT Rourkela)
Duration: 10th December, 2020 to 20th January, 2021.
"I am grateful to my mentor for guiding me in understanding the EIA reports and bringing out relevant portions required to meet the objective of "Participation in Environmental Public hearing" for EPHs held during year 2019 in the state of Gujarat. Her valuable guidance made me learn some of the crucial socio-economic impact of EPH during my work.
I sincerely appreciate the freedom provided to me by ParyavaranMitra Director Mr. Mahesh Pandya in exploring new ideas in the field of my work. He supported and encouraged me throughout the project work. I am also obliged to him for making me part of their ongoing research work.
During the conduct of internship, I felt connected with the social initiatives taken by the ParyavaranMitra. The learning objectives provided by the ParyavaranMitra were achievable and realistic. During my association with ParyavaranMitra, I gained a greater perspective towards social causes. I was able to exhibit my managerial skill towards the attainment of social goals established by the NGO
I would definitely recommend the organization I worked with to other students in future, it will provide them with great learning experience specially if you are from an MBA background. Also, I will like to continue my association with the organization in the future."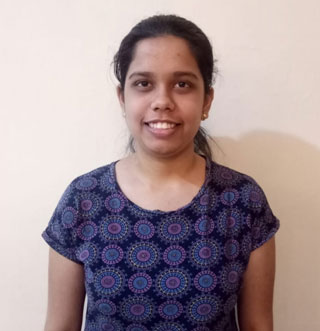 Eesha Mishra
B.Sc. (Medical) Chandigarh
Duration: 2 months (February 2021 – April 2021)
"I had an opportunity to work as an intern with ParyavaranMitra and my experience of working with them was amazing and full of learning. I was not just involved in the assignment given to me but also learned about the organization, attended webinars on various important topics. I had an amazing mentor who guided me on every step and involved me in various activities. They are doing wonderful work by involving youth in environment related activities and encouraging them to do their bit for the environment."
Internship Program


Paryavaran Mitra provides opportunity to students around the world to put into practice and deepen their theoretical knowledge that they have learn in classrooms.  We also offer chance to know more about various developmental perspectives related to environment through in-depth orientations, hands on experience of research, training and advocacy.
We have been providing internship since 15 years and have been instrumental in giving internship to around 143 students in last 10 years from 23 Universities and over 5 countries. Students from various faculties like environmental science, environmental engineering, law, journalism, social work, management etc have done internship with us and were able to undertake an experiential learning related to their course as well as interest area.
Benefit for student from Internship Program:
Students are seeking opportunities that stimulate their interests and provide real‐world experiences. Students will be benefited from internship program in following ways:
Personal development and explore career possibilities as they will be given broad exposure
Our work can complement their academic programs and/or career interests.
It will provide them industry relevance and real life experience.
It will also enable interns to establish a profession network.
Resources provided to intern:
Supervisor: During the internship program at least one person serving as a supervisor to the student will be there throughout the entire experience. The person will be professional in the field of environment. The supervisor's role will be to help acclimate the student to the organization, assign projects and responsibilities, and to answer the student's questions related to the project assigned.   Supervisors will engage intern in a variety of activities and projects, learning experiences, and networking events while providing mentorship and feedback throughout the experience. A sufficient guidance and supervision will be provided through the duration of the internship.
Mentor: A mentor will assist with transition into this new learning environment. This is done by discussion on general political and socio-environment scenario, answering general questions related to personal and professional growth, and sharing career knowledge leading to networking in the field.
All the equipments and facilities will be provided by us which are required to support learning objectives/goals. An intern will be provided with a space to work and computer/ printer, software/ hardware etc.
All the lodging, boarding, and transportation expenses for exposure visit for project- related work or visits will be bear by us.
 General scope of work for interns:
Providing an intern orientation to our organization: As the interns are new to organization and professional world, they will be introduced to activities, environment and objectives of our organization.
Environment education: As students from different background are invited in our internship program, a basic training on environment and its protection and our work on advocacy will be imparted to them. They will also be given introduction to environmental legislations.
Students will be taught how to involve, inform, and consult the public/project affected people in the planning, management, and other decision-making activities.
They will also be given field exposure with our team for learning how to enhance public participation and strengthen public hearing process.
We will also facilitate students to attend 1-2 environmental public hearing which will be held during the period of Internship program.
Students will also be encouraged to do analysis in their topic of interest and do research and write articles and reports for our bi-monthly magazine "Paryavaran Mitra".
Students will be given chance in monitoring and updating essential specific data required for our advocacy work or any ongoing project.