Participation in United Nations climate change conferences (UNFCCC)
Conference of the Parties (COP) to United Nations climate change conferences (UNFCCC) are global forum for discussions on climate change matters which are normally held every year at host country's location. Paryavaran Mitra (Janvikas) is admitted by the Conference of the Parties (COP) as observer organizations to the UNFCCC process in 2012 and has been attending COP since then.  We have also participated as speaker at various side events at COP. In 2018, we had the opportunity to speak in India pavilion in COP24 on "Capacity building for climate change" held at Katowice, Poland.
In 2019, 25th session of the conference took place at Madrid, Spain from 2nd to 13th December 2019 under the Presidency of the Government of Chile and with logistical support from the Government of Spain. This year also Mr. Mahesh Pandya participated at COP25 and was speaker at Side-Event on "Sharing of Best Practices in Urban Development" that was held in India Pavilion organized by Ministry of Environment, Forest, and Climate change (MOEFCC). He spoke about about "Green Catalyst Program" that was initiated by Paryavaran Mitra and addresses urgent need to educate youth to protect environment.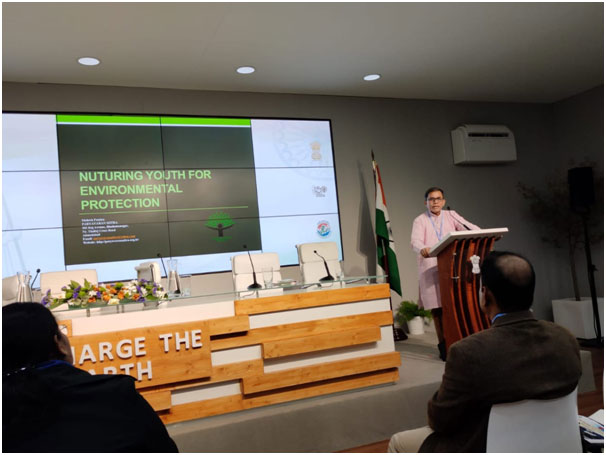 Our environment is in need of urgent attention before it is too late and the Green Catalyst program is focused on doing just that. Harnessing the power of the youth – the initiative focuses on generating awareness among citizens and helping them understand what they can do to protect their environment. Working with youth from different backgrounds – the Green Catalyst program provides both theoretical knowledge and on ground experience to equip the youth to become true changemakers for the environment.