Paryavaran Mitra has been working in the field of environment since its inception and has published many books to share experiences and lessons learned through its journey.  It uses publication as a platform to educate and create awareness amongst the academic institutions, youth- based groups, women rights' group, NGOs, and others about environment and industrial pollution.
Our Newsletter "Paryavaran Mitra" is regularly published. It has completed 227 issues. It contains articles on policy level changes in Environmental legislation and other burning environmental issues.
Around 1400 subscribers in govt. agencies, NGO and voluntary organization, individual experts, academic institutes, libraries are registered. Regular feedback is received from our readers who appreciate and comment with suggestions for modification of further issues.
We recently added few more publication, kindly check them
'Dariya Kinara na Udyogo ne Lagta Kayda'
(By Mahesh Pandya & Kinnari Shah)
Coastal Regulation Zone and Special Economic Zone related topics are discussed in this book with specific case studies.
(Gujarati Rs. 50/-)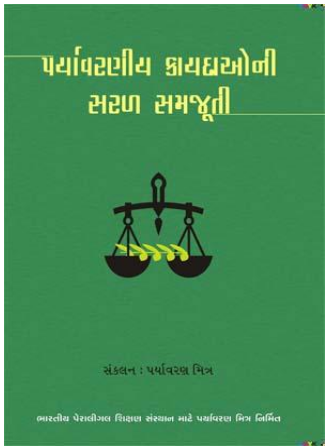 'Paryavaraniy Kayda ni saral samjooti'
(By Paryavaran Mitra team)
This book contains simple explanation of Environmental law in a question/answer format.
(Gujarati Rs. 50/-)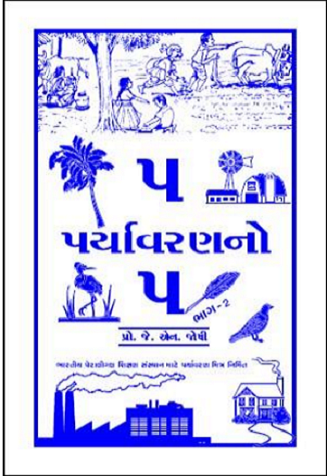 'Pa Paryavaran no Pa Part II'
(By Prof. J. N. Joshi)
The first edition of this book was released in June 2003. It has simple explanations to environment and pollution related terminology.
A new revised edition was published in Oct, 2005.
(Rs. 30/- for the old and Rs. 50/- for the new edition)
'Panchayat ni Paryavaran Pothi'   
(By Vipin Makwana)
This book explains environmental law, case studies and interviews of experts on effective environmental conservation at village level. It is useful for villagers and Panchayat members.  
(Gujarati Rs. 50/-)
'Paryavaran Mitra na Sankalit Ansho' (1998 – 2005)  
It has a compilation of articles from Paryavaran Mitra issues from 1998 to 2005.
(Gujarati Rs. 200/-)
'Environmental Public Hearing'
(By Mahesh Pandya)
This book explains Environmental Public Hearing is explained in very simple language. It is published in both English and Gujarati language.
(English Rs. 75/- & Gujarati Rs. 30/-)
A. ભારત અને ગ્લોબલ વોર્મિંગ – Gujarati booklet on Global warming
The booklet is mainly aimed at college and university students and teachers in towns and cities, other young people, activists, and anyone interested in a basic overview. Its broad purpose is to urge greater engagement, whether individual or collective, with the issue of climate change. The wonderful thing about engaging with climate change is that it connects issues that are nowadays viewed in a fragmented manner. A few suggestions about what one could do are discussed in the last section.
B. ACCESS TO ENVIRONMENTAL JUSTICE IN INDIA THROUGH THE COURTS ACCESS TO ENVIRONMENTAL JUSTICE IN INDIA THROUGH THE COURTS
This Access to Environmental Justice Toolkit is created to empower affected communities, NGOs, para-legals and interested citizens to access environmental justice in India through the Indian judiciary. Paryavaran Mitra wishes to thank and acknowledge Professor Gitanjali Nain Gill (Northumbria Law School, Northumbria University, UK) for her invaluable contribution and partnership. Professor Gill's outstanding research on environmental justice, human rights, and the National Green Tribunal of India resulted in her creating this Toolkit. The Toolkit will support capacity building through growing awareness of environmental laws and access to environmental justice through the Indian judiciary.
સર્વસમાવેશક પુનઃપ્રાપ્તિની દિશામાં
અનૌપચારિક રિસાયકલર્સ સાથે ભાગીદારી કરવાના સામાજિક, પર્યાવરણીય અને આર્થિક લાભો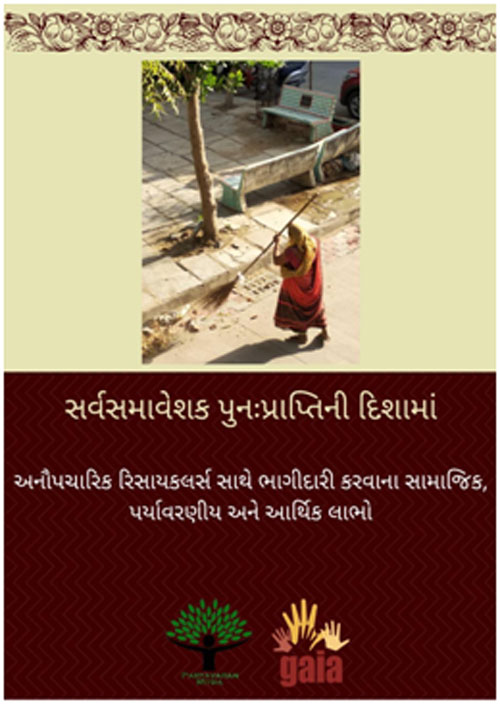 કોવિડ -19 મહામારીએ વૈશ્વિક અર્થતંત્રને અસ્થિર બનાવ્યું છે. વિશ્વ બેંકનો અંદાજ છે કે આ મહામારીને કારણે 88 થી 115 મિલિયન લોકો દારુણ ગરીબીની સ્થિતિમાં આવી જશે. વળી, અનૌપચારિક ક્ષેત્રના કામદારો, જેઓ વૈશ્વિક કામદાર ક્ષેત્રનો 60% હિસ્સો છે, તેઓને આ મહામારીથી અગાઉની કોઈપણ વૈશ્વિક આફત કરતા સૌથી વધુ અસર થશે.
આજે ભારતના મોટાભાગના શહેરો અને નગરો માટે મોટો પ્રશ્ન કચરાના વ્યવસ્થાપનનો છે. પીરાણાનો કચરાનો ડુંગર આપણા અમદાવાદની ઓળખ બને એ કોઈ અમદાવાદીને ના જ ગમે! મોટાભાગના નગરો પોતાના બજેટનો મોટો ભાગ કચરા વ્યવસ્થાપનના કાર્યમાં ખર્ચે છે. એક અધ્યયન અનુસાર દક્ષિણીય દેશોમાં મ્યુનિસિપલ બજેટનો સરેરાશ 19% હિસ્સો કચરાના વ્યવસ્થાપન માટે વપરાય છે. જો આર્થિક પુનઃપ્રાપ્તિ માટેના ભંડોળને એકીકૃત રીતે આ દસ્તાવેજમાં દર્શાવ્યા અનુસાર જેને આપણે સામાન્ય રીતે હાંસિયામાં ધકેલી દઈએ છીએ તેવા આપણા ખૂણે-ખૂણાના શહેરોમાં અનૌપચારિક ક્ષેત્ર તરીકે કાર્યરત "ઇનફોર્મલ રિસાયકલર્સ" વર્ગની સંપૂર્ણ ક્ષમતાને વિકસિત કરીને "ઝીરો વેસ્ટ" વ્યવસ્થા તરફ આગળ વધી શકાય તે માટે વાપરી શકાય જેનાથી બેરોજગારી ઘટી શકે, કચરાના પ્રમાણમાં ઘટાડો થાય અને વધારામાં સામાજિક-પર્યાવરણીય ક્ષેત્રે પણ લાભ મળી શકે.
પ્લાસ્ટિક વૅસ્ટ મેનેજમેન્ટ નિયમો અન્વયે સ્થાનિક સંસ્થાઓ તેમજ પ્લાસ્ટિક પ્રોડ્યૂસર્સની જવાબદારીઓ
વર્તમાન યુગમાં ઇન્ફોર્મેશન ટેક્નોલોજીનો સૂરજ ઝળહળી રહ્યો છે. વૈશ્વિક સ્તરે સુખ, સગવડ અને સુલભ લોકજીવન શૈલીમાં કુદરતી સ્ત્રોતોના થઇ રહેલા દોહન, પ્રદૂષણના ભરડામાં આવી રહેલ  પાણી, હવા અને જમીનના પડકારો સાથોસાથ એક તરફ વૃક્ષ સહિતના વિકલ્પે રોજીંદા જીવનમાં પ્રવેશ પામેલ પ્લાસ્ટિકનું અસ્તિત્વ સર્વ સ્વીકૃત બની રહ્યું છે. ત્યારે બીજી તરફ, શહેરોમાં, નગરોમાં, ગામેગામ, ખેતરના સીમાડે, નદી, તળાવ, સરોવર, દરિયાકાંઠે, પહાડ અને ઊંડી ખીણો સહિત સમગ્ર જળ અને થળમાં ચોક્કસ પ્રકારના પ્લાસ્ટિકના કચરાએ પડકારરૂપ સામ્રાજ્ય ફેલાવ્યું છે. ઝાડ-પાન કે વનસ્પતિના સૂકા-ભીના કચરા સાથે આ શેતાન સમા પ્લાસ્ટિકને સામાન્ય લોકો બાળીને હવામાં ઝેર ફેલાવી રહ્યા છે. પ્લાસ્ટિકના કચરાની ગંભીર સમસ્યા અંગે પ્લાસ્ટિક વૅસ્ટ મેનેજમેન્ટ રૂલ્સ, ૨૦૧૬ ની જોગવાઈઓ અંતર્ગત પ્લાસ્ટિક વૅસ્ટ મેનેજમેન્ટ નિયમો અન્વયે સ્થાનિક સંસ્થાઓ તેમજ પ્લાસ્ટિક પ્રોડ્યૂસર્સની જવાબદારીઓ અંગે આ પ્રકાશનમાં માહિતી અપાઈ છે.